Why Do Farmers need a Cyansky Multi-color Flashlight?
Cyansky Light 0 comments
Domestic animal raising is one main earning for some families. Some people, especially the elder ones who don't live with their children may consider the animals as their old friends, in addition to the way of earning. They give great love to the animals. Not only in the daytime, but night caregiving and protection for them are normal in their life. Here we recommend the Cyansky H3 multi-color flashlight for you.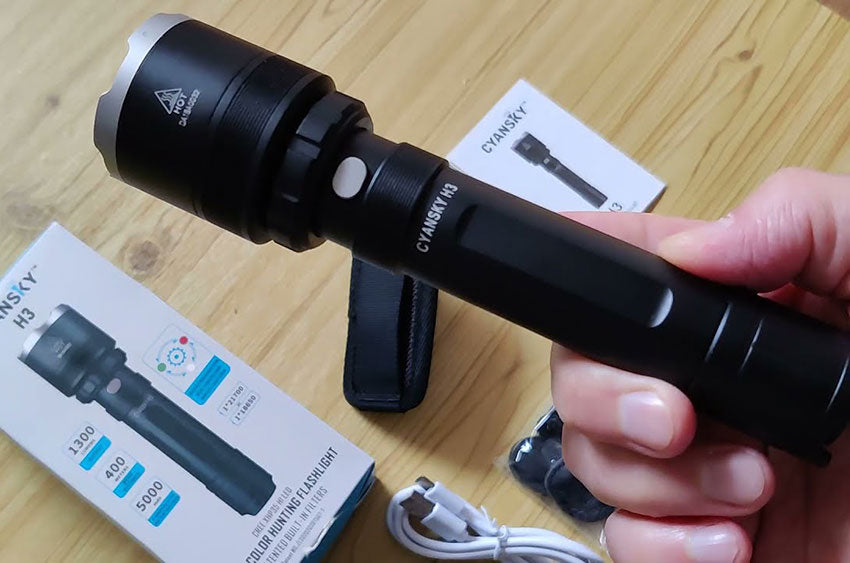 Cyansky H3 is a multi-color flashlight that features white, green and red color light. We define it as one of the best hunting flashlights because most predators are not sensitive to the red or green light, both of them are featured by the Cyansky, and the easily switch color technology. But, do you know this multi-color flashlight can help you with a lot of domestic animal caring work?
Red light
Red light does not contribute to light pollution as much as white light. So when you take regular examinations of your animals at night, but not to disturb them, use the red light.
The red light of the Cyansky H3 LED flashlight beams a maximum of 100 meters, most robably covering your whole farm. With it, you can examine whether your farm is normal - - is the predating animal coming, or any loss of your animal happens, and the living status of their babies. But your animals are still enjoying a good sleep, which helps them grow healthily and produce enough milk.
White Light
White light is considered as the pollution to your environment and people around you at night. But, take the right aspect of the white light. If you encounter predators or attackers, the white light works.
When you hear abnormal noise in your farm direction, use the white light to shine immediately, which will reduce the loss of your animals. And if the predator or attacker is too much close to threaten your safety, use the white light strobe mode, which will scare them away, when the gun is not at hand.
Easy-switch Colors
Cyansky H3 is designed with a patented color filter, which allows you to change color within less than one second to deal with an emergency. You don't need a spare color mount, which is easily lost and need more time to change the mount.
Predators Hunting
You don't expect your raised animals to be attacked for a second time, right? Then the Cyansky H3 is the premium hunting flashlight for you right now. Take your shotgun mounted with the multicolor LED hunting light to kill the predators.
White light is for path finding, measuring distance and long-range searching;
Red light for deer, coyotes and other predators hunting;
Green light for feral hogs hunting.
The lumens and beam distance of the Cyansky H3 LED light:
White Light: 1300 lumens / 400 meters
Green Light: 300 lumens / 208 meters
Red Light: 100 lumens / 120 meters
If you want a longer distance beam for the sake of security, choose Cyansky H5, the pro version of Cyansky H3. The data are as follows:
White Light: 1300 lumens / 600 meters
Green Light: 300 lumens / 313 meters
Red Light: 100 lumens / 180 meters
Enjoy the 10% discount (Nov. 27th expires.) and Take action today.